photography packages for National park elopements
Adventurous Photography for intimate love stories both near and far
Elope to the Great outdoors
Your romantic souls desired something more than what the confines of a traditional wedding could offer. So you're packing your bags and eloping to the national parks of the US and Canada. My heart can relate. For those star crossed wanderers who want an elopement experience that is both adventurous, and truly romantic, the National Parks make the ideal destination. With fifty-eight National Parks in the US ranging from the towering peaks of Great Smoky Mountains, the quiet dunes of Death Valley, to the near magical shores of Acadia, you're guaranteed to find the perfect setting to make your dream elopement a reality. There simply isn't a better venue for an elopement than the great outdoors, sorry Vegas.
A few of my favorite things
Traveling to new places, outdoor adventures, and romantic portraiture. Elopements combine all my passions into one amazing experience so I certainly can't think of anything I'd rather be than an elopement photographer. What that means for you is that you won't find another photographer as passionate about your elopement as me. What does that mean for you?
Simple; THis is going to be incredible!
Of that I will make sure. From helping you pick the destination, to advising on the scheduling and logistics, I'll strive to ensure you have the best elopement experience possible. From the snow capped peak of Mt. Rainier, to the majestic Grand Canyon, or the quiet rainforests of Olympic, we'll venture forth and find the perfect setting for this next chapter of your love story. There we will create breathtaking photos straight out of your dreams, ones you can treasure for a lifetime. Come, let's be adventurous!
ELOPEMENTS IN THE US AND CANADA $3,000
NO ADDITIONAL TRAVEL COST
Elopements are my passion and nothing makes me happier than photographing a couple in love in the national parks. Let's plan your dream elopement and and work together to create photographs, and memories that will last us both a lifetime.
All day coverage
From the first light of dawn till the last light of dusk, we'll explore as many locations as your heart desires, all the while the creating unforgettable images.
All photos on a USB drive
I place no limits on the number of images delivered, and every photo is lovingly edited to look their very best. All delivered to you on a USB drive.
Print release
Print your images at your favorite photolab and share them to your heart's content.
Personalized slideshow digital file
A short montage of your romantic adventure through the national park.
Private web gallery
You will receive a link to a private web gallery that is password protected, perfect for sharing with friends and family. From here you and your family are able to view all of your photos, and order prints from my favorite professional print lab.
Elopement Package Add-ons
Backcountry Elopement - $500
Perfect for those that want to go further off the beaten path. With up to three nights in the backcountry we can trek to the perfect spot for your vows, creating memories and timeless photos all along the way.
Handmade Wedding Album - $530
A 50 page, 8x10 handmade flush mount album with a leather or photo cover.
Includes professional album design service with unlimited revisions
More than Just an elopement photographer
I'm Norm Roberts the Fifth, an artist who has dedicated more than a decade to perfecting the art of photography. When I'm not editing wedding photos you'll find me backpacking the wild places of this world. So If you are adventurous souls with a flare for romance, and would like to create with a fellow wanderluster, contact me and we can plan your perfect elopement.
So who is my ideal client?
Easy; a couple who doesn't mind their hair getting a little wind swept. Lovers who laugh at getting caught in a downpour, or smile when they get a little mud on their boots. Fellow explorers who crave going off the beaten path and take the road less traveled. Let's happily travel the twisting mountain roads, hop across rushing creeks, hike the painted canyons, and climb the mountaintops. The wild lands of this world offer the very best scenes to those willing to seek them out. Together we will create stunning images and memories we can both treasure for a lifetime.
Together we'll create a romantic experience you and your love will never forget
As a backpacker I adore the National Parks. Yosemite, Inyo, Lassen, Zion; I love them all. I grew up spending springtime in the quiet town of Mariposa right outside Yosemite National Park. Being that close, trips into the park were frequent occurrence. We'd make the short journey through the western portal and explore the valley all day long. I'll never forget witnessing the towering splendor of El Capitan and Half Dome for the first time. That majestic valley cemented my love for the outdoors that is a core part of who I am today.
What am I willing to do as your elopement photographer?
The sky is pretty much the limit. Drive up to Yosemite National Park to spend the day exploring the valley? Get the weddings rings, I'm on my way. Maybe that's not adventurous enough for you and you'd rather backpack into the wilderness and have an elopement atop a soaring granite peak in Glacier National Park? When do we leave? Jumping in lakes? Camping on the beach? Kayaking the Colorado river? Let's go! No matter where your destination is or what we may be doing, let's have a fantastic time. Wander off the beaten path and enjoy the indescribable joy of eloping with your best friend to the National Parks.
HAVE A QUESTION? READY TO BOOK? SEND ME A MESSAGE AND I'LL GET BACK TO YOU RIGHT AWAY.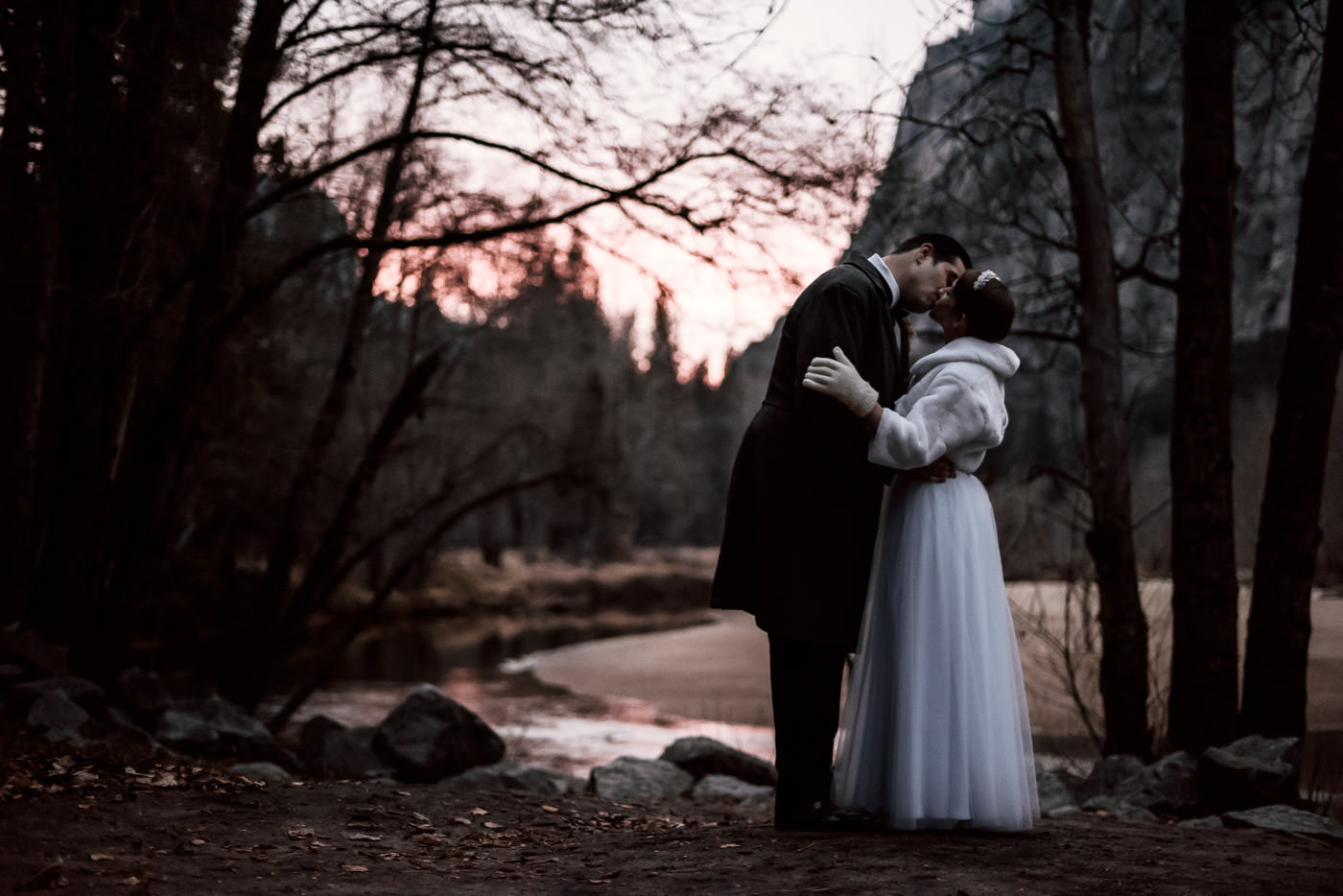 I want to make sure you have the absolute best elopement experiance possible
Magic like this only happens once in a lifetime, after all. Besides, we probably don't want to scale that peak in our formal attire again. Well, at least not for a redo. While of course your elopement package can be adjusted to fit your exact needs, there are a few things every elopement photography package of mine includes.
For elopement locations in national parks outside southern california
All travel expenses are already included in your package. I spend a minimum of three days at your destination. One is of course for the the elopement. The second is a day to scout the locations you have selected. I want to be sure I'm familiar with every location we go to. The final day and night is for travel. In an absolute nightmare scenario of canceled or delayed flights as well as other travel crisis, an entire day can be lost to delays and I will still arrive for your elopement with time to spare.
I never limit how many pictures will be delivered to you.
But that also doesn't mean I just throw every image on my memory card onto a drive and send it off. I carefully curate a selection of images giving you everything you'd want to see. No repetitive duplicates. From that point every image is given my unique color processing then individually edited to be its absolute best. You won't find any lazy batch editing here. For the most part I do not heavily retouch images unless they absolutely need it. They aren't just your elopement photos but my artwork, I will not stand for them being anything less than perfect.
The finished images will be sent on a handy USB drive & through a web Gallery
Every package includes print rights as well as the ability to share images on social media (apparently some photographers don't allow this). My only request is that you do not edit or apply filters to my work when sharing. Your web gallery will always be accessible to you for viewing or sharing with friends and family.
One last thing, and I think it's pretty important.
I am a self professed hoarder of photographs. I not only have each and every high resolution JPEG that I've delivered to every wonderful couple I've photographed since my very first wedding in 2009, but all the RAW files I took as well. Not only that but it is all carefully backed up on multiple drives. So let's say in 10 years your laptop along with all your elopement photos mangled by a hungry bear raiding your cabin, Let me know and I'll make sure you get a new copy of them right away. No one should have to worry about losing their elopement photos to bears.