Elopement Packages for Your Yosemite Adventure
Thunderous waterfalls, TOWERING granite domes, and that majestic valley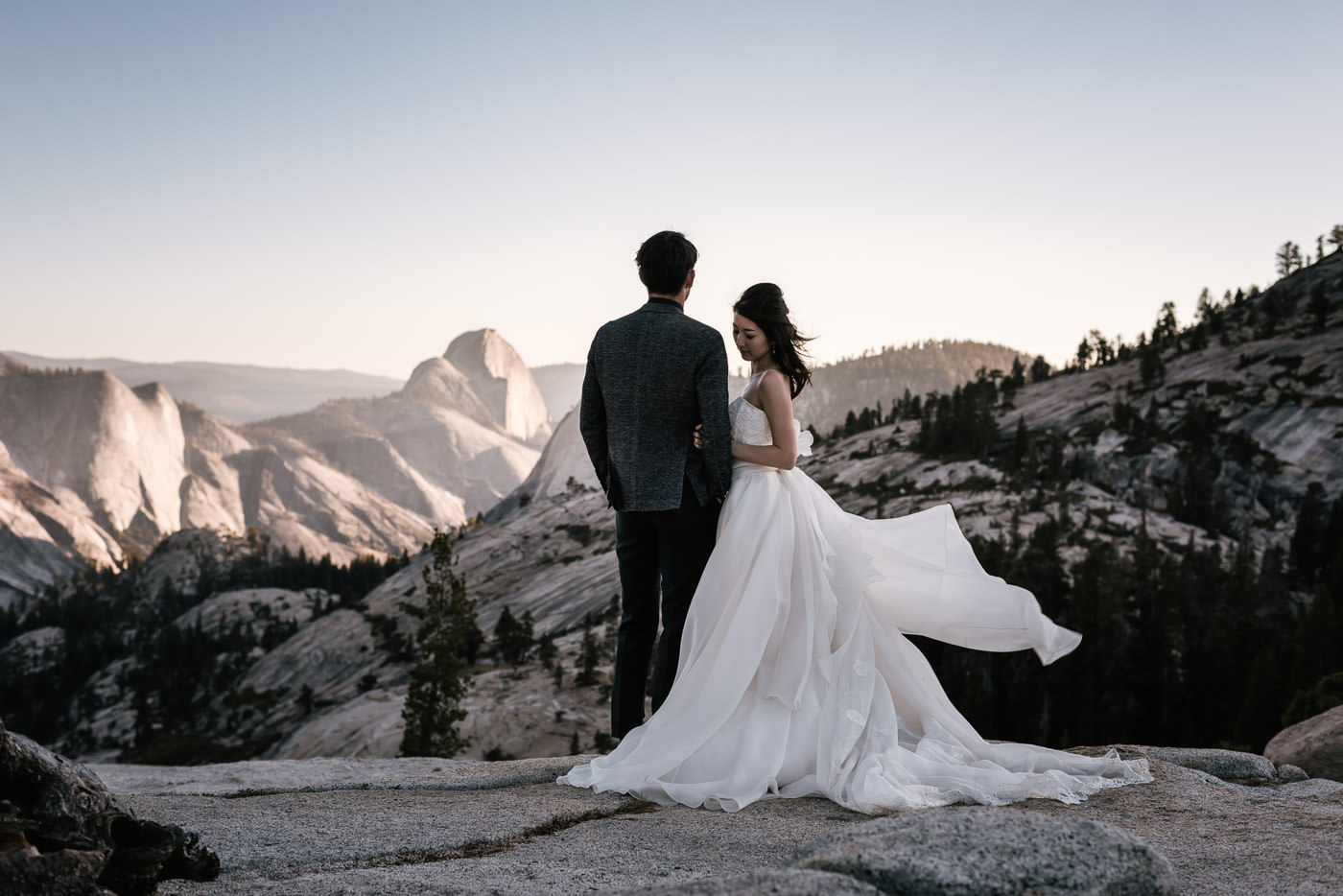 THere's nothing quite like a yosemite wedding
Your love story has always been a grand adventure, so what could be a more fitting destination to tie the knot than the majestic wilderness of Yosemite National Park? Whether you're eloping to Yosemite or having a traditional wedding, the park's magic will ensure this next great chapter of your love story will be nothing short of incredible. This magical valley has enthralled mankind for thousands of years with its' majestic granite domes, quiet meadows, towering sequoias, and thundering waterfalls. These natural monuments create an unforgettable venue for your wedding and provide a backdrop with which we can create something you'll treasure for a lifetime. Let's be adventurous!
YOsemite Wedding packages for every occasion
Whether you're planning a classic wedding at the Yosemite Chapel or eloping to the peaks above, you'll find a wedding photography package that's perfect for your love story below. What's the major difference between my two packages? I do not provide coverage for receptions as part of an elopement, so for that you'll need to go with my Wanderlust wedding package.
Wedding & ELOPEMENT photography PACKAGES
Yosemite ELOPEMENTS $3,000
NO ADDITIONAL TRAVEL COST
All day coverage
We'll find the perfect spot in Yosemite for this wondrous new chapter of your love story. With the whole day at our disposal we can travel from the valley floor to the Tioga pass above. All the while creating photos that capture every romantic moment of your adventure.
All photos on a USB drive
I never place limits on the number of photos I deliver. Each and every photo is carefully edited to look its' best. Then the full resolution files are delivered to you on a USB drive.
Print release
Print your favorite images of your Yosemite elopement at your preferred photo-lab and share them with your loved ones to your heart's content.
Personalized slideshow digital file
I'll create a short montage to showcase your romantic adventure through Yosemite National Park.
Private web gallery
In addition to the USB You'll get a private web gallery that is password protected. Want to share it? Give the link and password to whoever you'd like. The gallery also lets you, and your loved ones to print all manner of products from wallet sized prints to massive canvas prints.
Backcountry Elopement $500
For those that want to go further off the beaten path. With up to three nights in the backcountry we can trek to the perfect spot for your vow's creating memories and timeless photos all along the way.
Handmade Wedding Album $530
50 page, 8x10 handmade flush mount album with leather or photo cover
Includes professional album design service with unlimited revisions
Wanderlust package $3,000
I'll spend the whole day creating your Yosemite wedding photos with you. Photographing everything from your early morning preparations, to you love birds watching the sunset on Half Dome. Couples in, or willing to travel to, Southern California will receive a free engagement session.
NO ADDITIONAL TRAVEL COST
All day wedding coverage
From sunrise to sunset we will capture every magical moment of your big day including the reception.
All photos on a USB drive
I place no limits on the number of photos I deliver and each and every image is edited to look its' very best. All delivered in full resolution to you on a USB.
Personalized slideshow digital file
A custom made montage of your special day.
Private web gallery
You will also receive a link to your password protected web gallery. From there you can view your photos, and order prints from my preferred professional print lab. Then share the link and password with your friends and family so they can do the same.
Print release
Print from the lab of your choice, and share to your hearts content.
Second Photographer $500
In order to capture your love story from every angle, I'll handpick a second photographer to shoot with me.
Handmade Wedding Album $530
50 page, 8x10 handmade flush mount album with leather or photo cover
Professional album design service with unlimited revisions
More than just a Wedding & elopement Photographer
I'm Norm Roberts the Fifth, an artist and nature lover who has been perfecting the medium of light for over a decade. Yosemite National Park is one of my favorite places on Earth. I grew up spending every Easter right outside the park with my family near the quaint little town of Mariposa. Being so close, expeditions into to the park were a regular occurrence. That wondrous granite inspired my love for nature and instilled in me a great appreciation for the wild places of this world.
After all these years of exploring the park, I can say I know it thoroughly.
While I love all the National Parks, Yosemite is very near and dear to my heart. I still frequently head up to the little cabin my great grandfather bought so long ago. I know where we can find the best spots, from grand vistas to tiny hideaways, I can lead you to the perfect location for your Yosemite wedding or elopement photos.
You can count on me to doing anything and everything required to bring your love story to life
You'll find me happily driving winding mountain roads, wading through the Merced River, trekking up Half Dome, or climbing granite boulders to find the shots we envisioned. All of this and more to create the photographs your grand adventure deserves.
and believe it is the perfect place for your romantic wedding or intimate elopement then look no further for your photographer. Choose someone who not only has been photographing weddings for nine years but loves Yosemite as much as you do. Contact me below and we'll plan your amazing day.
HAVE A QUESTION? READY TO BOOK? SEND ME A MESSAGE AND I'LL GET BACK TO YOU RIGHT AWAY.